A-MAZE-ing

66" x 88" Twin quilt made from Kaffe Fassett Woven Stripes and Shot Cottons; backing is soft batik. Shipping costs will be adjusted to actual UPS.


Algorithm

Lovely Algorithm sample in turquoise colors. Backing is End Papers - Spring. Quilt is


Diagonal Madness Quilt Sample

60" x 74" quilt sample. Brocade Floral Backing


Fractured

50" x 62" quilt sample. Quilted & bound. Folk flower backing.



Out of Stock
Simply Woven

48" 60" quilt sample. Quilted & bound.


Village Quilt Sample

Village Quilt. 78" x 78"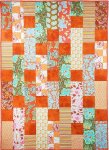 Vintage Amy Butler Quilt

63" x 87" Twin sized, bright, fun quilt made from Amy Butler fabrics. Shipping cost will be adjusted to UPS actual.