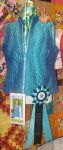 Feather Your Vest

Pattern includes cover, directions & paper copy with traceable feather design. Sizes S - XL in one pattern. Digitized QLI file for Statler available separately.


Feather Your Vest Digitized QLI File

Email of QLI zip file for Gammill Statler. Vest fronts, back & collar. Digitized file Includes stippling around feathers if desired. You will need the Allison Quilt Designs pattern (or a vest pattern with darts) to make the vest.


La Belle Epoch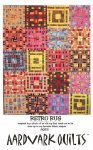 Retro Rug
Argyle

Twin quilt: 68" x 86"


Baby Bargello

40" x 52" quilt features Kaffe Fassett woven stripes to create interesting bargello effect.


Bargello Placemats
Candy Queen

Queen size 90" x 90" quilt


Candy Sticks

Generous throw size 56" x 75" quilt


Color My FRESH & MODERN World

Twin size quilt 72" x 86" Quilt pattern uses strip piecing method so goes together fast, fun and easy!


Diamond Time
Feather Your Tablerunner!

Curvy runner: 18" x 42" Straight runner: 18" x 48" Show off a beautiful big print and your own quilted feathers. Feather pattern for tracing included.


Four Leaf Wallhanging
Fruit Cake

Twin size 66" x 88" quilt. Can use 10" precuts. Choose 13 prints along one colorway (red, orange, gold) and two "pop" colors (aqua) shown.


Funky Stripes

This easy strip pieced pattern has three sizes: Lap: 46" x 60" Throw: 60" x 75" and Generous Twin: 75" x 90"


Paper Roses

Two sizes: Throw 50" x 70" or Twin 63" x 88"


Patch-No-Work!

Quilt 90" x 96" frames a queen size bed perfectly. Use color, print and value to create a work of art.


Rays of Sunshine Block of the Month

A 92" x 92" quilt for Block of the Month projects. $37.95 Shop Kit includes full color illustrated fabric requirement pages each month.


Short Trip Tote

Tote 14" x 17" x 3"


Show Off! Tablerunner

Three sizes: 18" x 45" 60" or 72" Feature a beautiful large print, framed with pops of color.